The Secret to Adele's Perfect Cat Eyeliner Has Finally Been Revealed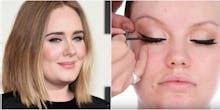 Today will forever be remembered as the day the curtain was lifted, and we were finally able to see the magic that goes into creating Adele's perfect cat eye — and no, it's not actually Harry Potter sorcery like we had expected. 
The "When We Were Young" singer's makeup artist, Michael Ashton, has released a detailed step-by-step tutorial (seriously, it is 20 minutes long) explaining the intricate steps to recreate the singer's go-to beauty look. Not so surprisingly, it includes a whole lot of eyeliner. 
Read more: Adele Explains What Went Wrong With Her Grammys Performance
Though he's spoken about the process in the past with The Cut, this is his first time showing just how it's done.
We broke down the steps below, as simply as we could. Caution: You will need a very steady hand (or an experienced makeup artist to do it for you).  
Step 1: Apply a gel eyeliner outward starting toward the inner corner just past the end of the lash line. 
Step 2: Wing it! 
Step 3: Stretch the eyelid out with your hand and hit that inner corner. 
Step 4: Continue to wing it. 
Step 5: After making your eyeliner as dark as you want, applying mascara and fake lashes, go over the cat eye with liquid liner. 
Not only does it look super easy, but everyone has the time to sit and apply their own eyeliner — right? (Note: sarcasm.)
And remember: Just because you look like her doesn't mean you can sing like her.
Watch below for the full video tutorial, in which Ashton also explains eyeshadow and face makeup: 
h/t MTV