Bill Clinton Thought He Was Talking to Black Lives Matter Activists in Philly. He Wasn't.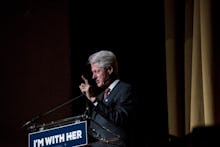 When Erica Mines and Rufus Farmer walked into a small gymnasium in the Mt. Airy neighborhood of Philadelphia on Thursday, they weren't expecting to have a direct confrontation with former president Bill Clinton, who was there to stump for his wife, Hillary Clinton, ahead of Pennsylvania's democratic primary on April 26.
"We did not intend to be confrontational in any manner," Mines said in a phone interview with Mic on Friday. "We just wanted to exercise our right to freedom of expression."
"We were not there to say black lives matter, just there to show discontent with Hillary Clinton because she's profited off of the black vote and now she's going after mothers who've lost their children due to unjust policing," she said. "It's almost a contradiction. You can't be against unjust policing and be in favor of the death penalty; she has to address those issues, too."
Read more: Why Bill Clinton Just Tripped Up Hillary in the Worst Way Possible
It was one of the most contested moments of this primary season, one that could haunt the Democratic frontrunner.
It was one of the most contentious moments of this primary season, one that could haunt the Democratic frontrunner, particularly with younger black voters. Bill Clinton defended the 1994 crime bill and his continuation of the war on drugs in a prolonged, off-script speech that's garnered national headlines and become a trending topic on Twitter. Throughout the speech, Clinton made direct references to the refrain "black lives matter," chastising critics like Mines and Farmer, who were speaking out against the 1994 crime bill.
"You are defending the people who killed the lives you say matter," Bill Clinton said. "Tell the truth. You are defending the people who caused young people to go out and take guns."
But neither Mines, 38, nor Farmer, 33, are formal or informal members of Black Lives Matter, the national network known for its protesting of police violence. Lifelong residents of Philadelphia, both Mines and Farmer are organizers with the Philly Coalition for REAL Justice.
"We support the movement, but we're not part of the organization," said Mines, who added that she wasn't surprised at all by Clinton's off-color remarks. "How many white folks do we find ourselves encountering each and every day who try to explain black folks their disparities — especially when they helped create those disparities?"
Farmer wasn't surprised, either. "Mr. Clinton's comments were typical of deflection tactics," he said Friday by phone. "We've seen this type of reaction before where we bring forth facts that someone or an organization committed atrocities against African communities here in this country, and then those who we confront with the accusation deflect from the topic at hand."
On Friday, Clinton expressed regret for his confrontation with Mines and Farmer.
"Now, I like and believe in protests. I'd be a hypocrite if I didn't, 'cause I engaged in some when I was a kid," Clinton said at Penn State Erie, The Behrend College. "But I never thought I should drown anybody else out. And I confess, maybe it's just a sign of old age, but it bothers me now when that happens."
"So I did something yesterday in Philadelphia," he continued. "I almost want to apologize for it, but I want to use it as an example of the danger threatening our country."
Mines still isn't impressed, and called Clinton's almost-apology "really disingenuous.'