Baddie Winkle Had the Best Outfit of the MTV Movie Awards That Didn't Get Enough Credit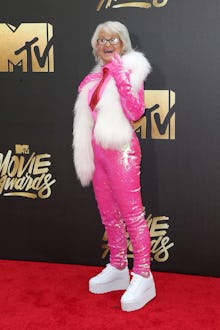 From Christina Aguilera's bustier look in 2001 to Paris Hilton's stomach-baring 2003 getup, the MTV Movie Awards have been a breeding ground for memorable, over-the-top looks. 
At this year's event Sunday, when most stars seemed to play it safe with funeral-like black gowns, one Instagram star won our attention with a pink sequin jumpsuit, red tie, white fur vest and platform sneakers. 
Of course we are talking about none other than Baddie Winkle. Take a look at what the social media sensation wore to the MTV Movie Awards:
While many were focused on Kendall Jenner's laced-up thigh-high pumps, our eyes were on Winkle as she proved once again that people of all ages can (and should) rock fun, unexpected and eccentric outfits. 
For those who don't know the 87-year-old badass style icon (even though you should), she became a social media sensation in 2015 for her out-of-the-ordinary looks and weed-related memes. Winkle also boasts over 1 million followers on Instagram and calls Miley Cyrus and Rihanna fans. Casual. 
That's in no small part thanks to her DGAF style.
Those who saw her on Twitter seemed to agree that Winkle is a style icon worthy of our worship.
If Winkle proves anything, it's that whoever said you should dress for you age was seriously mistaken.