Chris Pratt's Sideburns Played Supporting Role in Masterful MTV Movie Award Appearance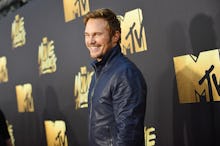 The entire audience let out a collective "awww" when he thanked his wife Anna Faris during his acceptance speech for Best Action Performance. They cheered his reunion with his Parks and Recreation co-star Amy Poehler. They swooned when he goofed around on the red carpet.
In short, Chris Pratt was the easily the standout star at Sunday night's MTV Movie Awards telecast. Just take a look at that bomber jacket. 
He even makes checking the time seem exciting. 
Even his grossed-out faces are appealing.
Though it's even more appealing when he bites his lip.
And especially when he's shouting out his wife.
But there was one aspect of Pratt's look that had the internet divided: his sideburns. Many speculate that they are for his role in Guardians of the Galaxy Vol. 2. Even so, they were a peculiar beauty statement that threatened his otherwise angelic handsomeness. The viewers couldn't come to a consensus.
Many swooned over the '60s throwback 'burns: 
Others saw them as a powerful way to accentuate his bone structure:
But not everyone was a fan. Some just think it's time for him to shave. 
But really, the majority of the internet (who made his very name trend) simply wanted to discuss how hot he was at the show — with sideburns or without: 
In summary:
Now, time to start a petition for Pratt to host the 2017 MTV Movie Awards.