Victoria Beckham's Leg Looks Digitally Altered, Because Magazines Just Can't Get It Right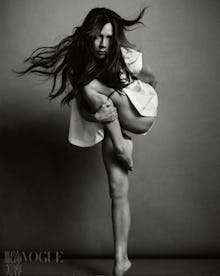 At first glance, Victoria Beckham's Vogue China photo spread seems like just your average fashion editorial. Seriously, it's not like Posh Spice had never posed for Vogue before.  
Read more: Kerry Washington Has Delivered the Final Words on Photoshop, OK?
Take one more look at the below pic, and you'll start to question the mechanics behind the pose. It must not be easy to stand upright while missing a part of your thigh (or to stand in this Heisman Trophy-like stance to begin with). 
Check the top of her standing leg, it appears that Beckham's thigh is almost detached from the rest of her body. Let's be honest, she should be holding her standing leg, instead of her other fully intact bent one, to keep it from falling off. 
Commenters on her Instagram sneak peek of the shoot were quick to call out what seems to be our daily dose of failed celebrity photo manipulation. 
"OMG she's missing a huge chunk out of her thigh in the first pic," one user wrote. "THE LEG WTFFFFFF NOT NORMAL," another commented. 
Others defended the fashion designer, blaming the photo's shadows and white underwear. 
"Omg people, do you not understand anatomy?? It's not cropped or Photoshop, it's her underwear/knickers," a comment read. "Clearly it's a white body suit that blends into the background. LOL. Silly people," wrote another. 
Before you start to worry that her leg is no longer intact, the rest of the photos from the editorial prove that Beckham, in fact, still has two attached legs.
Haven't these magazines learned anything from the recent Kerry Washington and Lena Dunham editing debacles? Here's some advice: Just say no to airbrushing. Trust us, it can be done. 
h/t Mashable