This Cheeto Vine Is the Only Kylie Jenner Lip Tutorial We Need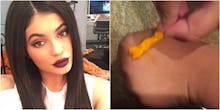 Unless you've been living under a rock, you know that the internet cannot stop talking about Kylie Jenner's so-called "Lip Kits." Whether she's previewing a new color on her Snapchat or breaking Google with a new shipment, the burning need to copy Jenner's plumped-up lips appears to be stronger than ever.
Read more: Kylie Jenner's Gorgeous New Metallic Matte Is Everything We Wanted and More
Christine Sydelko, a Viner with over 405 million loops, was given early access to one of the new Lip Kit colors. Before you say "no fair" — she kindly uploaded a Vine showing us the color swatch and applied the shade that we believed is named "Cheeto." 
"Hey guys, the new shade of my Lip Kit just came out. It's super cute, I think you guys are really going to love it," she said in a Vine that has since been watched over 2 million times.
OK, you guessed it: Sydelko was parodying the endless number of videos we've seen of Jenner applying colors to her hand, along with the non-stop discussion surrounding the beauty product. 
Just on Sunday, those who are lucky enough to follow Jenner on Snapchat saw swatches for her new Coachella-themed (yes, you read that right) metallic Lip Kits. 
The new shades don't even come out today, but fans are already clamoring. And when people act like the Lip Kits are as valuable as the long-lost Heart of the Ocean necklace from Titanic, a few laughs are in a must in between the eye rolls. So thank you, Christine. 
Now, go quietly sing "My Heart Will Go On" to yourself while you longingly await the next Lip Kit release.