Kylie Jenner Claims to Have "Started Wigs," Twitter Roundly Disagrees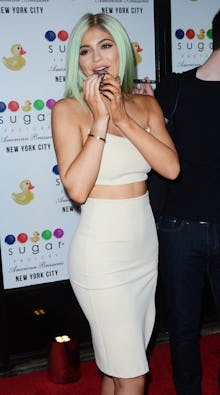 Like her half-sister, Kylie Jenner knows how to break the internet — but she also knows how to piss it off. 
Read more: 9 Important Questions We Have About Kylie Jenner's Wigs
In between launching her signature Lip Kits and posting videos to Snapchat, the youngest member of the Jenner/Kardashian fam sat down with Marie Claire for its May 2016 Fresh Faces issue. 
Jenner, who is one of five celebrities (Ellie Goulding, Hailey Baldwin, Zendaya and Gugu Mbatha-Raw) featured on the May covers, discusses her love of switching up her hairstyles and wearing multicolored wigs. In doing so, she takes credit for the style entirely.
"I started wigs, and now everyone is wearing wigs," she said. "Kim [Kardashian West] just used my wig guy last night ... I just do whatever I want to do, and people will follow." 
Sorry, Kylie, but users on Twitter don't seem to agree with you. 
A lot of people are pointing out that black women specifically have been wearing wigs for years (several tweets include reference to grannies at church). But this is far from the first time that the Jenner/Kardashian girls have taken or received credit for starting a "trend" that's actually been traditionally a culturally black style.
In 2014, Marie Claire (yes, the same magazine of Kylie Jenner's new interview) came under fire for calling Kendall Jenner's braids (read: cornrows) new. (The exact tweet: "Kendall Jenner takes bold braids to a new epic level.") 
Kylie has also worn cornrows on multiple occasions despite fierce criticism, and Kim Kardashian West's recent "boxer braids" hairstyle was also accused of being a cornrows ripoff.
But hey, Kylie does regret some things. We learn from this new Marie Claire interview that she regrets posting sexy photos to social media and that her biggest pet peeve is when people drive her car and switch around her seat settings. (Same.)
It's possible that Kylie was talking about how she started the wig trend within her family or the resurgence she caused. There is no way she actually believes that no one ever wore wigs before she did — right??
The internet towards Kylie right now:
April 12, 2016, 7:47 a.m.: Kylie Jenner sent a tweet on Tuesday, seemingly addressing the wig statement controversy: