This Kickstarter Wants You, Ostensibly An Adult, To Fasten Jewel Clips on Your Bra Straps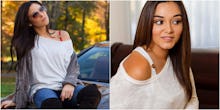 "Didn't April Fool's already happen this month?" was our initial thought when we came across the Kickstarter for Blinks, jewel clips for your bra straps that are set to launch this spring.
Before you say "wait, what?" don't worry: We investigated.
Blinks describes its products as "luxe pave charms that slide on to most strappy clothes, adding personal style and class." Basically, Blinks wants you to dress up your straps, from your bra to your tank top, with sparkly gems or "high-brilliant micro-cut crystals."  
Read more: Bridal Buddy Creates Undergarment Slip for Brides in Need of a Bathroom Break
"My partner and I were walking down the streets of Manhattan and just started talking about how it's so much more acceptable to show your bra straps," Kristy Faulhaber, the brand's founder, said in an email. "The point is to take something that was once taboo (showing your bra straps) and making it more luxurious and trendy."
Wait, since when is showing your bra strap taboo?
The company is initially launching with six designs meant to be worn depending on your mood or personality: an evil eye, Eiffel Tower, heart, infinity and the words "hi" and "bye."
"Wear the heart when you need love or want to give love," Faulhaber said. "Wear the infinity when you need to always believe in something. Wear the 'Hi' when you're feeling engaged and friendly!" 
So are Blinks the modern charm bracelet? According to the company, yes. "Charms and accessories have become stale," Faulhaber said. "Blinks has given new life to the charm world and created an entirely new category."
As seen in September 2015, when lingerie brand Knix Wear raised over $1 million for its 8-in-1 sports bra, Kickstarter is a breeding ground for innovative lingerie. But not all bra innovations are created equally.
To give Blinks the benefit of the doubt, it's something our 12-year-old selves probably would've been into.