Meet the Resellers Making Thousands of Dollars Off of Kylie Jenner's Lip Kit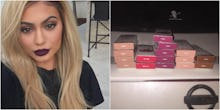 You might dish out hundreds of dollars for a pair of Nikes, but would you do the same for a stick of red lipstick?
For years, people have scooped up limited edition sneakers and concert tickets in bulk, only to markup and resell for double or triple the selling price. But it wasn't until recently, as seen with Rihanna's MAC Viva Glam collection's quick sellout, that many discovered the demand for beauty products was just as significant. 
Read more: Kylie Jenner Loyalist Gets Kylie Lip Kit Swatches Tattooed on His Forearm
One reseller in particular, Andre from SoleStreetSneakerCo, discovered this and began capitalizing on someone we all love... or hate... or love to hate: Kylie Jenner. 
Like any good boyfriend would, Andre initially tried to purchase one of Jenner's new Lip Kits for his girlfriend. But, once Jenner released them on her website, within minutes the kits were sold out.
"I tried to get it the first time," Andre said in a phone interview. "They sold out just as fast as the hottest sneakers or the hottest new line of Supremes. They were selling [the products] on eBay even before being in hand, just [with a] confirmation email. I figured I'm going to make sure I get when she restocks." 
"This sort of situation is a bit of a 'perfect storm' where it is a combination of a scarce, visible status item, associated with what might be called a 'lifestyle' celebrity – that is, a celebrity whose lifestyle and cachet a large number of people would like to emulate," Robert Phillips, professor of professional practice at Columbia Business School, said via email. 
Seeing the excitement around the first batch, not to mention having positive experiences previously reselling items tied to the Kardashians/Jenners, this was a no-brainer for Andre. When the kits were finally restocked, he had a plan already in place.
He used a bot, yes a BOT, to program the Kylie Cosmetics website. The bot, which is similar to the ones concert ticket resellers use, allowed him to purchase a solid amount of the kits with the click of a button. He was able to preload his credit and shipping info, as well as program the amount of products that he wanted to buy. 
"[Bots are] something that sneaker resellers and enthusiasts have been using for a long time. Programmers are able to take these bots and use them on items that are in really high demand," he said. "I knew clicking on the site wouldn't have a great success ratio. The items are at a pretty low price point, and I knew I wouldn't get enough to make it count."
Andre isn't the only reseller cashing in on Kylie. Sole_Possession_, another streetwear/sneaker reseller on Instagram, decided to cash in after seeing a friend selling the kits for $125 each. "People were buying," he said over the phone, asking to remain anonymous. "It was easy money."
A quick search on Instagram introduces you to an assortment of accounts, such as this guy and this one doing the same. 
People are willing to pay the BIG bucks. Andre was originally selling the product on his eBay account for $125-$130 each (around $100 more than the selling price of $29). He had managed to build a following on Instagram, so instead of continuing to give the website a cut, he began to sell them through this social site for a lower price.  
The Lip Kits sold out after he posted a photo of all of the purchased items and asking followers to text/comment/direct message if they wanted to purchase one.
After selling 100 kits, Andre made around $6,000 to $7,000 off of Kylie. Sole_Possession_ only bought around 20 kits, but was still able to make about $620 off of one hour of work. 
But is it a sustainable business? Unfortunately for resellers, but fortunately for Kylie fanatics, the hype for the kits is slowly dying down. Restocks are happening more often and people are realizing that they can get the color they want if they wait. "The wave is just about over," Andre says. 
"[Moving forward,] I have to weigh the fact that this was the first piece of cosmetics she did," he said. "It did great, it resold great at first. But now the customers have [realized] that it wasn't a one-shot deal, it wasn't something limited. It's something she plans on running for a while. I don't know that people will be as willing to jump out the window, and pay this high rate above in order to get it instead of just waiting for it," he said. 
"There is no guarantee that a specific item will 'take off' and no known formula to create a craze," Phillips said. "Kylie Jenner lipstick might take off and become a craze, while 'Kylie Jenner mascara' simply sells well but does not become a craze. A lot has to do with social networking and peer uptake leading to what is called 'contagion' where the fact that a lot of people want it, causes other people to want it as well." 
Andre will continue to keep his eye on the beauty industry, because it's not just Jenner who can sell a beauty product. As mentioned above, Rihanna's MAC line, and more recently, Tom Ford's Drake lipstick quickly sold out. When asked if he ever would purchase a Kylie Cosmetics product again, Andre mentioned it would have to be an item she specifically publicized as limited. 
Resellers often have a bad rap among fans, but it's evident that there is a wide market, demand and profit for them — especially when it comes to the Kardashian/Jenners. The more we idolize these ladies, the more money we will be filtering into their pockets. 
Sorry, Ky.