Behold the Wedding Dress You Can Eat After Wearing Down the Aisle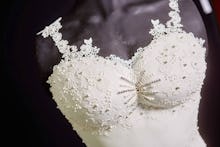 This intricate, custom-made wedding dress has over 1,500 ruffles, beads and lace details. But don't run to Kleinfeld's just yet — because you can't actually wear it. 
Why? The dress is made entirely out of cake. 
Award-winning cake sculptor Sylvia Elba, who enlisted the help of Illinka Rnic and Fun n Funky Cakes' Yvette Marner, was asked to create a dessert made out of wafer paper for Cake International, a U.K. cake-decorating and baking show. Boy, did she deliver. 
The dress, which is made out of fondant, cake lace and wafer paper, comes complete with a sweetheart neckline, flower detailing, lace straps and a fitted bodice. 
Read more: Bridal Buddy Creates Undergarment Slip for Brides in Need of a Bathroom Break
Like good ol' Rome, the cake wasn't built in a day. The crafting reportedly took a total of 300 hours to complete. That's especially long considering we've seen Cake Boss' Buddy decorate a cake in mere minutes. 
So why did it take so long, you ask? The cake weighs about a whopping 150 lbs (about the weight of a Great Dane) and stands at about 5'5" tall. 
This cake is a positive, and somewhat ironic, contrast to all of the obsession (like this and this) that surrounds wedding dress weight loss. We'll happily divert the conversation away from dieting and working out to admire this gorgeous piece of edible art. 
And since we can't wear it, all we want to know is: Does it at least taste good? 
h/t Huffington Post