Willow Smith's Mind Blown Over the Fact That She's a Chanel Ambassador With Dreads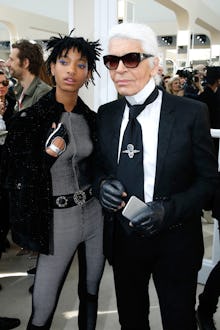 Remember just six years ago, when Willow Smith was known as the pint-sized cutie spastically whipping her hair back and forth? Fast forward to the present and the 15-year-old is a mogul-in-the-making, taking the fashion world by storm.
After signing a modeling contract with the Society Management (the same agency that represents Kendall Jenner) in September 2015, Smith's career went into hyperdrive, including a Marc Jacobs campaign and covers of i-D and W. But it was her appointment as a Chanel ambassador in in March 2016 that really got folks talking — not only because of her age, but also her unique look.
Read more: Willow Smith Named Chanel Ambassador to "Expand the Perceptions of Beauty"
In a new cover story for Teen Vogue, Smith is opening up about the reason her new title is important for not just her, but girls like her.
"Being a young African-American woman with dreads, it blows my mind that I'm a Chanel ambassador," she told the magazine. "Like, how am I a Chanel ambassador?
"It is so beautiful," she continued. "I'm coming into a new part of my life that is completely unknown, and I'm jumping right in. All I can do from here is continue to shift paradigms and continue to push the envelope further and further. But I am doing it every day just by being myself."
When announcing her new role with Chanel back in March, Smith thanked Karl Lagerfeld and the Chanel team for "expanding the perceptions of beauty."
With the celebration of her natural hair, eccentric makeup, badass septum piercing and overall DGAF style, pushing the envelope is exactly what she has done — and her fans seem to love it. 
"This is absolutely Willow in all she stands for and its beautiful," one user commented on her Instagram reveal of the cover. "Hope you love your cover as much as we all do," another wrote.
As she told CR Fashion Book in 2015, "I just want to have dreads. I want to embrace my full self, as natural as I can be."
At a time where we often see a natural hair bias (like this and this), Smith's dreads are exactly what we want (and need) to see reflected on magazine covers and high fashion ads.
Now, if only as adults we could be half as wise as Smith is at just 15. #Goals