Facebook Just Made a Bold Prediction About the Future of Virtual and Augmented Reality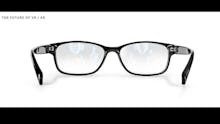 Mark Zuckerberg sees a future where virtual reality and the meatspace aren't mutually exclusive. 
During Facebook's F8 conference keynote today, Zuckerberg slapped a photo of dad glasses on the big screen — glasses he pictures as the future of augmented reality and virtual reality eyewear. 
The only catch? It's going to take another decade.
"Over the next 10 years, the form factor's just going to keep on getting smaller and smaller, and eventually we're going to have what looks like normal-looking glasses that can do both virtual and augmented reality," Zuckerberg said during the keynote, according to the Verge.
Imagine the potential of the Oculus Rift smashed with the potential of Microsoft's HoloLens scaled down to the size of a pair of eyeglasses. That's Facebook's vision. Zuckerberg added:
"So that means that today, if I want to show my friends a photo, I pull out my phone and I have a small version of the photo. In the future, you'll be able to snap your fingers and pull out a photo and make it as big as you want, and with your AR glasses you'll be able to show it to people and they'll be able to see it.
Smaller is better: It's clear that tech companies want to pack in a mixed reality experience into the smallest hardware possible; both Samsung and Google have made small strides in shrinking this vision down into smart contact lenses. 
Let me paint you a picture of Facebook's vision of mixed reality in 2026.
Glasses are no longer just a fashion statement or a way to correct vision — they are as commonplace as smartphones are now. You won't whip out your phone as your default interface, because now the world is your interface. 
Gazing, winking, blinking, voice-activating and hand gesturing will control the features of your smart glasses. You can share a photo — as Zuckerberg said at the keynote — or maybe you want to play a game. Imagine: your Neko Atsume kitties sprawled around your actual living room, no longer confined to the 5-inch screen of your smartphone. 
You can FaceTime, overlaying the receiving end's face into your field of view. Physical objects will be sparse — you won't need them. TVs, tablets — phones even — will become less necessary, since the glasses on your face turn your world into a screen on-the-go. 
In a whim of escapism, you can switch your glasses over to VR mode, tinting out your surrounding environment for whatever world, game or virtual social experience you want. 
Don't freak out yet. As Zuckerberg said, this experience can take up to a decade to come to fruition. This was a moonshot vision; how exactly these smart glasses would work — the specs, the guts — remains to be seen. 
What's clear is this: Facebook has its sight set on a future where mixed-reality glasses are indistinguishable from many of the glasses you see on people's faces. In the meantime, make sure you don't spend too much time in the void — the meatspace misses you.