This Bride's Black Wedding Dress Is the Perfect "Eff You" to the Traditional White Gown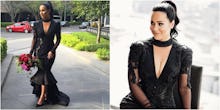 Admit it: Your closet is mostly made up of 50 shades of black clothing. So why not continue the trend and wear the color on one of the biggest days of your life — your wedding day?
Sophie Cachia, an Australian blogger know as the "Young Mummy," did just that. She, along with her eight bridesmaids, wore black gowns to her October 2015 nuptials. Six months later and her story has finally gone viral because... the internet.
Cachia wrote a blog post about her big day where she explained she never saw herself getting married in a white dress. So, why the black Anthony Montesano from Signor Mont Couture instead of any other color of the rainbow?
Read more: Behold the Wedding Dress You Can Eat After Wearing Down the Aisle
"Black is classic. It looks good on just about everyone. It's bold, it's sexy, it's daring," she wrote. "I find wearing black to be extremely striking, hence why it's my go-to choice of color to wear on any occasion."
Since the white wedding dress custom is said to have started around 1840 (thanks, Queen Victoria), it's not often that we see a bride take such a "fuck you" approach to tradition.
"We are your average mid-20s couple, but we do like to stand out from [the] crowd," Cachia wrote. "Why would you want to look the same as everyone else? Especially on the biggest day of your life. We didn't see the point in doing anything traditional because traditional simply isn't us."
You might as well delete your wedding Pinterest board, because the story gets better. The couple served pizza and paella and swapped a wedding cake for a soft serve ice cream van.
Because everyone loves to wear black, the response to the gown has been overwhelmingly positive for the bride. 
"The amount of 'I knew you'd never wear white' was exactly what I expected," she wrote. "I've been completely blown away by the positive response my gown (and our wedding in general) has attracted. Yet at the end of the day, I suppose that doesn't matter because I didn't do it for anyone else but myself and Jaryd." 
Oh, and Instagram users are all for a non-traditional dress. 
"Finally a bride in black," one commented on a photo Cachia posted. "This is wedding goals," another wrote. 
Billy Idol, it's time to rewrite your lyrics. As Cachia shows, it's a nice day for a black wedding.
h/t Bored Panda
Correction: April 13, 2016