Amy Schumer Mocks Glamour Photo Blunder: "I'm a Famous Plus-Size Model"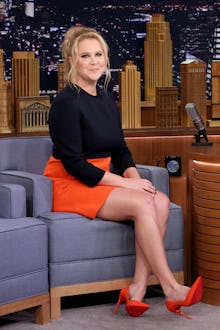 Since Glamour referred to Amy Schumer as "plus-size" on the cover of its first plus-size "special edition" issue, the comedian has been outspoken about her disdain for that label.
"@glamourmag put me in their plus-size only issue without asking or letting me know and it doesn't feel right to me," the comedian wrote on Instagram.
On Tuesday night, she addressed the topic once more during a chat with Jimmy Fallon on The Tonight Show. 
"For those of you who don't known who I am, I'm a famous plus-size model," she joked. "But what I learned is people don't like being classified as plus-size. We don't need these labels ... It should just say what size you are."
When did this start?
On April 5, Schumer asked her Twitter and Instagram followers to discuss whether they agreed that the magazine shouldn't have labeled her without asking. "It doesn't feel right to me," she wrote. "Young girls seeing my body type thinking that is plus-size? What are your thoughts?"
The reaction from fans was mixed.
Some agreed that the term "plus-size" should not exist. 
Others didn't understand why Schumer reacted so negatively to being associated with the term.
What was Glamour's take?
The publication's Editor-in-Chief, Cindi Leive, clarified that they never labeled the actress "plus-size." 
Read more: Amy Schumer Is Not OK With 'Glamour' Magazine Calling Her "Plus-Size"
Why does this matter? 
There is clearly a two-sided debate about the classification of plus-size women. We've seen celebs like Melissa McCarthy and Meghan Trainor and plus-size models like Robin Lawley and Ashley Graham speak against against the term. Tess Holliday, on the other hand, is #PlusSizeAndProud. Mic also previously spoke with its Tumblr followers about this exact topic and found that some didn't mind the term when it was in reference to clothing. 
Watch Schumer talk to Jimmy Fallon below:
h/t Salon