White Student Wears Blackface to Texas Party to 'Honor' Tupac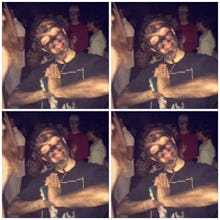 Houston's Mirabeau B. Lamar High School doesn't lack racial diversity. But that hasn't stopped some students from embracing the age-old tradition of blackface.
The school's student body demographics are similar to the city's racial demographics: Lamar High School is 28% white, 29% black, 37% Latino and 4% Asian. Over the weekend, at least some of the school's white students met at an off-campus party, and one showed up in black body paint wearing a Tupac Shakur T-shirt.
The student has not been identified publicly, but was reportedly told by an upperclassman to wear a costume for initiation into a secret student club called Wichaka. A screenshot taken of a Snapchat video eventually found its way to the public at large. Another white student may have revealed a bit more than she intended by trying to convince local reporters that the photo was being misinterpreted. 
"It's not anything with blackface, we didn't even know what blackface was," senior student Reagan Shadwick said to Click2Houston. 
Shadwick also said that the paint was intended to be a shadow, and it was just coincidental that the student in the picture was wearing a Tupac shirt.
For the school's black students, the incident has been especially painful. "I thought it was blackface and I was immediately offended," senior student Ogechi Anene told local reporters.