Beauty Blogger NYCDragun Releases Butt Contouring Makeup Tutorial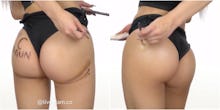 Just when you thought there weren't any body parts left to contour, we found this:
Yes, that is exactly what it looks like: butt contouring. 
Nikita, a beauty blogger known as NYCDragun, worked with makeup artist group LiveGlam, to produce a video of her shaping up her tush, giving it a little extra lift and shine. (Because all of our butts should glow!)  
Is it a spoof? Kind of. "It's the most practical use of contouring there is, perfect for summer! Maybe for the pool, the club, grocery shopping, picking up your kids from school, and pretty much anything else you can think of," she captioned the post. 
"This of course is meant to be taken as serious as possible and not meant to make fun of the Instagram contouring craze. What should I contour next... maybe my fingers... or my feet? [wink face emoji]" 
The contouring trend is very, very real. Joke or not, women are contouring all of their body parts, from their neck to their boobs to their legs.
"It has gone far," one user commented on the video. "Have you ever seen something so unnecessary," another wrote. 
Read more: Instagram's Latest Bizarre Trend Is Taking a Page From the Drag Queen Playbook
What's next? To continue holding women to unrealistic body standards, what will we see next? Although one model took care of most of the body, ear lobes, ankles, funny bones and toes are still up for grabs. 
Consider this our informal challenge.