Kylie Jenner Loyalist Gets Kylie Lip Kit Swatches Tattooed on His Forearm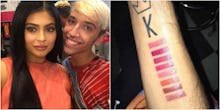 Just when you thought we had reached peak fandom with Kylie Jenner's Lip Kits supposedly breaking Google, we introduce Johnny Cyrus, an 18-year-old Milwaukee native who got a tattoo of all the current shades of Jenner's lip swatches forever etched into his flesh.
So no, those aren't multicolored chemtrails.
"Kylie's Lip Kit is just so perfect, the shades, the formula, I couldn't ask for anything better," Cyrus said in an email. "I knew I wanted the tattoo since she released the first three shades." 
And would you believe: This is not Cyrus' first Jenner-related tat. He also has the Kylie Cosmetics logo tattooed onto his arm. 
Of course he owns multiple T-shirts with Jenner's face emblazoned on them. 
And we can't leave out the phone case. 
Most importantly, he has a shrine. 
(Why yes, that would be Jenner as a Mary Magdalene-inspired candle.)
As seen with most Jenner viral moment, like most recently when she claimed to have "started wigs," there are going to be some naysayers. 
"Worry about themselves," Cyrus said when he would say to haters criticizing his decision to get his latest tattoo. "Why do people care so much about what other people do with their bodies? They need to focus on themselves and get an education and a career."
Of course, that didn't stop folks from sounding off on Twitter.
Any hate likely stems from jealousy that Cyrus not only has met Jenner, but also somehow managed to get all the Lip Kits. At this point, the latter is probably more difficult.
As the wise Taylor Swift once said, "haters gonna hate hate hate hate hate."