Woman Goes on Epic Rant Through Kmart Asking Why Bigger Bras Are Always "F*cking Ugly"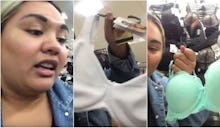 Get the five stories that will challenge you to rethink the world by signing up for MicCheck Daily.
Our new hero Charde Heremaia walked into a New Zealand Kmart on a mission to find a pretty bra. What was supposed to be a simple task turned into an impossible one. 
All she could find were "fucking ugly" granny bras. 
As Heremaia jokes in the video, she is "plagued with big boobs." (She must not have seen Crazy Ex-Girlfriend's Rebecca Bunch sing about the "perks" of having "heavy boobs.") 
Kmart's options for her size double F boobs were extremely limited. What was available? Ugly brick, creme and white bras that she wasn't even positive would fit her.  
"This is the closest thing I can find to what I fit, if, that's an if though," she said about the bra pictured below. 
"Kmart and other places feel like they have to give big titty girls granny bras," she said. "Not all grannies have saggy big boobs. Some of us young ones would like to be a little bit of a saucy minx every now and again." 
Read more: Are Victoria's Secret Bra Fittings Failing Women With Big Boobs?
If you want the less old lady-like options, you will have to dish out the cash. All Heremaia asks for are "pretty [bras] that don't cost hundreds and thousands of dollars." 
Less expensive retailers like JCPenney have only a few options available for Heremaia's size on its website. But you guessed it: They are pretty fugly. 
A search for F and H size bras on Sears' website led to the message: "It doesn't look like Sears carries the product you're searching for." Isn't that great. 
So what options are available? Leading lingerie retailer Victoria's Secret doesn't offer sizes over a 40DDD. Meanwhile, lingerie retailer Journelle carries up to a size 28J on its website, but these bras come at a hefty price: $80.  
In general, it seems that women have to go to plus-size retailers like Lane Bryant and Torrid if they want more "bigger boob" options.
There are, however, some brands that have addressed the problem. Hips & Curves, Curvy Kate and Harlow & Fox are just a few of the brands that sell DD+ lingerie, but none of those options are available in stores in the United States.
As Heremaia says, bra retailers, "sort your shit out."
h/t Mashable