Emilia Clarke Proudly Admits 'That's Me Photoshopped and Drunk' in Her Esquire Shoot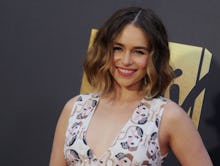 As any seasoned Game of Thrones fan will tell you, Daenerys Targaryen has no issue taking off her clothes. The actress behind the character, Emilia Clarke, not so much.
Read more: Emilia Clarke Addresses Critics Who Say 'Game of Thrones' Is Sexist 
Think back to Clarke's semi-nude November 2015 Esquire cover, where she was named "The Sexiest Woman Alive." Apparently, she was not as confident as she looked in the accompanying cover shoot.
The star needed some help in the form of liquid courage. 
"That was a funny shoot," the 29-year-old explained on The Ellen DeGeneres Show on Thursday. "Doing those kind of sex scenes on camera is one thing, but doing it as yourself ... I need alcohol to do."
The solution: vodka. 
"That's me drunk," she told DeGeneres. "That's me Photoshopped and drunk."
Photoshop has been a controversial topic of late, with celebs like Kerry Washington, Lena Dunham and Zendaya publicly discussing their disdain for digital alteration. Their claims are legitimate, as Photoshopping tends to perpetuate unrealistic beauty standards. It's also being done without their permission.
"It felt strange to look at a picture of myself that is so different from what I look like when I look in the mirror," Washington recently wrote on Instagram, after AdWeek digitally altered her image on the cover of their latest issue.
Still, in Clarke's case, it's nice to see someone doling out humor while acknowledging the sad reality of being a celebrity.