Ruby Rose Sounds Off on Disdain with Recent 'Galore' Interview Being Taken Out of Context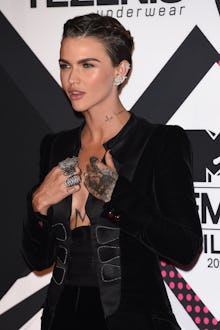 She may have taken over the internet for a time, but that doesn't mean Ruby Rose understands how it works. After several quotes from a new interview with Galore made the rounds on the internet earlier this week, Rose clapped back on Thursday, claiming she had been misquoted.
The backstory:
On Monday, Galore Magazine released a lengthy interview with the 30-year-old Orange is the New Black star, where she discussed a wide range of topics, from being called an 'It girl' and her time as an MTV VJ, to her celeb crushes and being compared to Justin Bieber.
Two topics in particular, one being about Rose turning people gay and another about her "hate" of airport style, were picked up by an assortment of online publications including New York Magazine, MTV and even Mic, to name a few. (Because that is what happens when celebrity content meets the Internet.)
Read more: Ruby Rose Is Now the Face of Urban Decay, and It Makes So, So Much Sense
On turning straight women gay: 
I'm one of those people who feels that everybody is somewhere on the spectrum. I don't think it needs to be labeled — love is about the person. When people say to me that I turned them gay, I just laugh, because that's not really even a possibility. It sounds like I did something against their will in the middle of the night, as if I crept into their brain and pushed the gay button." 
On celebrity airport fashion: 
I don't see myself as a fashion person at all in my day-to-day life. I'm always just in awe of Gigi Hadid, all of those girls — Bella Hadid, Hailey Baldwin, Kendall, Cara. They are all at the airport as if it's their runway, and I'm like, "What?!" They're always so well put together, just too fly! Impeccable style, looking amazing—I'm so impressed.
Her reaction:
Rose isn't happy with the way the media took her interview out of context and produced teaser-y headlines, and voiced her disdain ... on social media, no less.
"I'm a fan of all these publications and the 100s of others that have used bizarre click bait headlines and taken a really light hearted funny interview with Galore out of context," she wrote on an Instagram post of a screenshot of four publications' headlines (not ours, unforch). "But I literally don't 'hate anything,' 'I don't think airport fashion is trash,' 'Nor do I think I turned anyone anything.'"
"I don't know why people can't just use actual quotes from the article," she continued. "Why make a positive article a negative jab ... To make headlines (most people don't bother reading the rest) appear like I'm shaming people about their sexuality or like I have any right to claim to know others sexuality is dangerous."
She ended the post in true Ruby Rose fashion: "I HOPE EVERYONE IS GAY THEN I CAN MEET TONS OF GAY BABES!! Gay gay gay gay gay gay gay. Blah!" 
Fans seem to agree.
Many on Twitter voicing their agreement:
But Ruby, girl, be reasonable.
Rose never ceases to surprise us with how well-spoken she is on topics that might've previously been seen as taboo to discuss. And while we get it, having quotes taken out of context can be frustrating, her asking "why people can't just use actual quotes" seems rather head-scratching considering these are, indeed, her quotes. After all, it's not like you were misquoted.
Rose is definitely not the only celebrity to have had his or her words twisted and turned into bait — just ask Kylie Jenner about her trend-starting wigs. 
h/t Refinery29