Kourtney Kardashian's 3-Year-Old Daughter Does Makeup Better Than All Of Us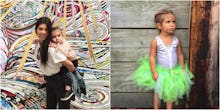 Forget YouTube makeup tutorials. We're going to start taking our Kardashian beauty tips from Penelope Scotland Disick from here on out. 
Kourtney Kardashian's youngest is apparently extremely talented in the makeup field. She also happens to be three years old.
Read more: 12 Kourtney Kardashian Instagram Posts That Show She's a Cool Mom, Damn It
"My sisters and I watched our mom get dressed all the time," Kardashian told Elle. "We always played with her makeup. And so Penelope does too, because it's part of how kids play. The scary thing is when she tries to put makeup on." 
If you've ever tried and failed to do your foundation like the Kardashians, don't worry — you are not alone. 
Penelope, on the other hand, has never had this issue. Makeup talent (or at least access to makeup artists) must be passed down through DNA. 
"She does the best job. She blends foundation perfectly. She's three," Kardashian explained. "I try to tell her, 'That's not good for your skin. Your skin is so beautiful anyway ... [But] I don't want her to feel like she's done anything wrong by exploring, you know?" 
But don't judge her for allowing her toddler to wear makeup at such a young age. "It's important to let your kids be who they are," she explained.
"I'm trying to teach her the balance, like, 'Makeup is a part of fashion. It's a part of expressing yourself.' But it's such a fine line, because getting the right message across, about being beautiful inside and being a caring person, that is so important," she continued. "But I don't think that means you can't experience fashion and beauty. And I hope I can show her that balance." 
It's doesn't stop with just beauty products. Penelope is the mini-fashionista spirit animal you never knew you needed. 
We present some evidence:
But can she contour?