Ilana Glazer From 'Broad City' Didn't Always Love Her "Fluffy, Cotton-Candy Curls"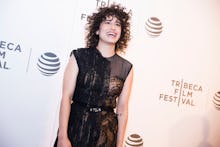 Two things probably come to mind when you think of Ilana Glazer: her DGAF attitude and those signature curly locks (OK, and maybe her saying "yas queen"). But, as it turns out, the comedian wasn't always so confident when it came to rocking her natural hair.
"I was actually made fun of as a kid," Glazer, 29, told Allure about growing up on Long Island, New York. "People would make fun of my fluffy, cotton-candy curls because everyone I grew up with had silk curtains of hair. Even now, people think curls represent a joke, like, 'She's the wacky one!' — which I don't believe is always true, at least not for most people." 
It was her entry into comedy that helped her embrace the 'do. 
"As soon as I started doing improv and stand-up, my self-confidence changed, and I started to see my frizzy hair as a strength, not a weakness," she said. "I firmly believe appearance is never as cool as what's underneath.
"It sucks that a hairstyle can become this universal symbol of who someone might be inside, as if it determines everything about them, but you've got to ignore that, find your own strengths, and love those instead."
Glazer isn't the first celebrity to have recently discussed wanting a different hair texture or the societal norms that are associated with certain looks. Jane the Virgin's Gina Rodriguez said to Refinery29 that she too is a "victim of wanting what [you] don't have" and believes it stems from "the way we've been trained." 
Zendaya is another celeb who has spoken out about the journey to loving her natural curly locks. "Obviously you want what you can't have, so I wanted different hair than what I had... It wasn't until I got older that I learned you don't know what you've got until it's gone," she  told People in January. 
Read more: 'Broad City' Proves Abbi & Ilana Aren't the New 'SATC' — And That's a Good Thing
It took some time, but the curly-haired half of the Ilana Wexler and Abbi Abrams duo now loves her look. "I think my curls are dope, and I want to nourish them, not change them into something else," she said. 
Bonus: Curls make for great pencil holders!