White Coachella Attendees Shout "No Español!" to Spanish-Speaking Singers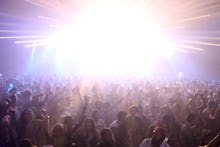 Some music fans at Coachella are proving to the world that they're clueless.
While waiting for the band M83 to perform on one of the music festival's main stages Friday, a group of fans started singing in Spanish to pass the time. This rattled white folks nearby, who demanded that fellow festival attendees stick to English. 
"Other people in the crowd were saying they were uncomfortable and yelling 'No Español!' or 'Stop singing please!'" journalist and festival-goer Jose Bastidas wrote in a blog post for the Desert Sun. 
Far from celebrating diversity at Coachella — one of America's most popular music festivals, which draws a massive and diverse crowd to the India, California, area each year — attendees instead took a stand against it.
"Why is it that a group of people singing a song in Spanish is met with such animosity?" Bastidas wrote. "Do people feel threatened when other cultures make themselves known in mostly white, English-speaking events? Is it OK for white girls to wear bindis and white men to wear kimonos but not OK for a group of Hispanic concertgoers to sing a song to pass the time in between sets?"
"Why is it that a group of people singing a song in Spanish is met with such animosity? " —Jose Bastidas
Sadly, Coachella has a dubious history of such behavior from its attendees. In fact, the event has become infamous for "White People Doing Awful Things" like wearing Native American headdresses and "Aztec-inspired" jewelry. It's become such a problem that Carefree Colored Girl contributor Tari Ngangura put together a guide: Do Not Be a Raging Racist at Coachella Because You Can't Wrap Your Head Around the Concept of Cultural Appropriation.
How ironic is it that Coachella folks are just fine appropriating a culture that isn't theirs, but take exception with authentic representations of another culture? 
We can do better, y'all.