HudaBeauty's Latest Makeup Tutorial Wants Women to Start Shaving Their Faces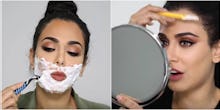 Ladies, as if your legs and armpits multiple times a week wasn't annoying enough, there is now another body part that makeup artist Huda Kattan thinks you should take the razor to: your face. 
Don't worry, the blogger behind the viral Instagram page HudaBeauty doesn't want you to cover your face in shaving cream like this:
Instead, she recommends gently using a straight blade razor on dry skin. 
In a video tutorial, she says you can shave off any unwelcome hairs from near your eyebrows to sideburns to baby hairs (à la Kim Kardashian).
Thicker hair you don't want? Laser it off.
"[I] def recommend that for areas around the mouth and chin, and side burns," she captioned the video. "If you have areas where the hair is super thin and more like peach fuzz, you may find this is your best bet."
Before you shake your head, there are benefits to shaving. 
As Kattan says in the video, shaving your face exfoliates your skin and helps with makeup application. Wondering why some men appear to be younger than they are? It might be due to shaving.
"When women (or men) shave with a razor, the blade will not only cut through the hair but also will mechanically remove some of the dead skin layer," Dr. Terrence Keaney, RealSelf contributor and dermatologic surgeon, said in an email. "This creates a mechanical exfoliation, which improves the skin's cellular turnover and enhances any topical products (anti-oxidants, retinoids) that are applied after shaving is completed." 
This isn't a new trend, and as Kattan puts it, "It's not as crazy as people think it is."
The Real Housewives of New Jersey's Caroline Manzo is no stranger to taking a blade to her face. 
Still not convinced? Beauty icons Marilyn Monroe and Elizabeth Taylor have both supposedly shaved their faces. 
Kattan is the queen of beauty trends, so don't be surprised if girls shaving their faces becomes the new contouring.