James Dixon Sentenced to 12 Years for Death of Black Trans Woman Islan Nettles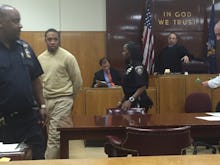 James Dixon, 26, was sentenced to 12 years in prison for manslaughter in the death of 21-year-old transgender woman Islan Nettles Tuesday.
On Aug. 17, 2013, Dixon flirted with Nettles during an encounter in Harlem, New York, before realizing she was transgender. He later told police in a videotaped statement he'd been "fooled by a transgender" days before and was driven by "blind fury." Dixon told officials he struck Nettles once in the face, causing her to fall to the pavement and hit her head, then hit her again. She died at Harlem Hospital one week later. 
"I don't care what people do," Dixon told police at the time. "I just don't wanna be fooled. My pride is at stake."
The district attorney had recommended a 17-year sentence for Dixon, who had pled guilty to manslaughter before his trial.
In a victim-impact statement, Nettles' younger sister described the trauma of losing her sister. "Twelve years is not enough," Nettles, 19, told the court. Dixon "can write people outside and speak to his family [and] we can't see my sister anymore." 
"It's not fair."
Nettles' father, Anthony London, also submitted a statement to the court, which prosecutors read aloud. "No amount of time will ever fill the hole in my heart that the person who was my only child," London wrote. 
"I pray for [Dixon's] family," he added, saying he hopes Dixon returns from prison to the open arms of his family. "I am no longer afforded that luxury."
The strongest words of the morning came from Delores Nettles, Islan's mother, who addressed Dixon directly.
"I hope you die," she said. "I will hate you for the rest of my life for taking something that belonged to me. Your mother can see you every day and say 'I love you.' I can't hear that. I'm subjected to seeing my child on a mantle.
"I had eight children and never thought that I'd have to bury one. I had the best of both worlds with Islan — a son and a daughter." 
Dixon stared ahead as Nettles spoke. He declined to make a statement to the court.
Since the attack, Nettles has become a national symbol for the deadly violence facing transgender women of color. At least two dozen trans women of color have been murdered in the previous two years, according to the Anti-Violence Project. But activists say the official count represents just a fraction of the victims of anti-transgender violence. 
"While we have a legal resolution in this one case, for many, it does not represent the real justice we are ultimately seeking," said Beverly Tillery, executive director of the New York City Anti-Violence Project. Transgender women, especially women of color, continue to be targeted each day in our city and across the country. To honor Islan Nettles and all the other transgender lives we have lost, and to support those who continue to live their lives, we must address the transphobia that runs so deep in our society."