How Kimmy Schmidt Became the Not-So-Low-Key Queen of Don't Give A F*ck Style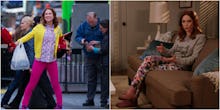 Kimmy Schmidt, the title character of Netflix's Unbreakable Kimmy Schmidt, is no longer the out-of-touch, yellow-cardigan-wearing, Indiana mole woman that first graced our television screens one years ago.
Her outfits have matured for the show's second season, which premiered in full on Friday, as the world outside of her bunker is no longer so new to her. But the quirkiness remains, as Kimmy is still the oh-so-relatable, girl-next-door style icon we came to love last season, with her best quality remaining the same: she DGAF whether you like her look or not. 
Season One: The yellow cardigan, pink jeans era. 
For the first few episodes of the show's first season, Kimmy's closet consisted of a her signature cardigan, light-up sneakers, flowery shirts and pink cardigans. In other words, she was dressing the way eighth-grade Kimmy would have before she was kidnapped and kept underground, detached from society for 15 years. 
"The first outfit Kimmy ever wears in New York City (the yellow cardigan outfit) represented optimism, innocence, and hope," Tina Nigro, Unbreakable Kimmy Schmidt's costume designer, said in an email. "She wears bright colors because thats what she's attracted to, because in her mind she's still young and optimistic and hasn't gone shopping since she was young and responds to clothing that look like things she recognizes from her youth."  
Towards the middle of the first season, we truly begin to see Kimmy's social reintegration via her sartorial evolution. Although she stayed true to her carefree, bright-colored outfits, she started to stray from girl-next-door and began to embrace the woman-who-came-from-a-bunker-but-escaped-and-now-lives-next-door look.
Read more: 'Kimmy Schmidt' Cast Shares What Their Personal "Peeno Noir" Would Be
She not only sought influence from her roommate Titus Andromedon, she also embraced the virtues of living outside of a hole in the ground, like experimenting with a straightening iron and dressing for occasions such as dates with Dong or Logan (unlike those fake dates she had with the other Bunker gals) and occasions (like her 30th birthday party). 
Season Two: Coming of age.
"We tried to show Kimmy maturing in some of her outfit choices which is why people can relate [as] it's a little more mature than first season," Nigro said. "I never consider making a fashion statement. I just buy things that I think the character would wear."
Kimmy has become less "your next Halloween costume" and more "a television character whose closet you relate to" — all while staying true to her colorful, "I'll wear what I want" self. She found a way to marry her love of patterns with more adult silhouettes and pieces. 
"There will always be a quirkiness to Kimmy's style, but I think in season two there's a little more maturity in the way she puts colors together," Nigro said. "The challenge for [pulling clothes for] season two was staying true to the characters that so many people have fallen in love with — but also showing growth in the characters and the new situations they are in." 
Fans all agree on one thing this season: they want Kimmy's clothes. 
You, too, can dress like Kimmy. 
Good news, a lot of the clothing the character wears (minus an Alice + Olivia skirt and Anthropologie jacket here or there) can be replicated for less dough as, say, label queens and fellow New York City residents like Gossip Girl's Blair or Sex and the City's Carrie (unless, of course, you have an endless amount of Manolo Blahniks). 
Nigro says that many of the items are from Sears, JCPenney, Forever 21 and other moderately priced and accessible retailers. Kimmy also repeats shoes, jeans and jackets because she is all of us... minus the 15 years spent in a bunker.
While we'll certainly miss Bunker Kimmy's braided hair, naivety and imaginary driving, we're much happier with the evolution of her style from childish choices to quirky, must-have adult pieces. (No seriously, we need that cat sweater.) 
So, when will season three be released?