Kylie Jenner's Model BFF, Mara Teigen, Looks Exactly Like Angelina Jolie, Says Internet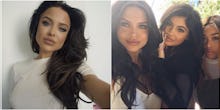 Get the five stories that will challenge you to rethink the world by signing up for MicCheck Daily.
Meet 21-year-old Mara Teigen. 
You might recognize Teigen for her role in Kylie Jenner's lip gloss video.
Or, you might've seen her modeling, as she is represented by Wilhelmina International. 
It also happens that the internet — like here, here and here — believes she looks like a certain Academy Award-winner whose name rhymes with Schmangelina Heauxlee.
The comments on her Instagram are filled with Jolie references.
"Modern day Angelina Jolie," one user commented. "Younger version of Angelina Jolie," another wrote. "Angelina 2.0," yet another said.
Still not convinced?
Are they identical? No, but from some angles you can clearly see a resemblance. 
Unsurprisingly, this is not the first time we've seen an Angeline Jolie look-alike, because internet.
In September 2015, Chelsea Marr made waves for looking like the 40-year-old actress. 
Who will be the next Jolie lookalike to round out this trifecta? Reveal yourself!