Transform Your Genitals Into Stuffed Animals With These Hand-Knit, Glorified Cock Socks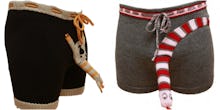 Who needs basic white Calvin Klein undies when you can wear boxer briefs that turn your penis into an adorable, stuffed animal? 
My Sexy Shorts, an appropriately named Lithuanian company, sells hand-knit acrylic underwear. But unlike ordinary boxer briefs pee holes, which are usually just a button, these holes lead your goods into the body or nose of your choice of four animals: a snake, two different teddy bears, or an elephant.
Read more: This Kickstarter Wants You To Fasten Jewel Clips on Your Bra Straps
"I found out that nobody knits men underwear," Simas Zelvys, the brand's CEO and co-founder, said in an email. "I needed to think of something unique that nobody sells, looks interesting and would be possible to use as a funny gift." 
Because ties and watches are overrated, people seem to enjoy purchasing this item as a gift for the special guy in their lives.
"The most common customers are young women," Zelvys said. "They are purchasing this for their boyfriends and husbands to surprise them for Christmas, Valentine's Day, birthdays, weddings, relationship anniversaries and many more occasions." 
Etsy reviews prove Zelvys' sentiment.
"Nice soft boxers very fun to see him wear it. It was bigger than I expected," one user commented. "Husband loved it and thought it was very funny," another wrote.
But, does the product act as a nice pillow for your junk? Apparently so. 
"Well constructed," an Etsy customer posted. "Great fun item for relaxing at home with my girl," another said. "Fit is perfect and super soft, not itchy or scratchy," one commented. 
We know you are wondering about the elephant in the room. Is that trunk big enough for your dude's well-endowed member? 
One user wrote that the undies were a bit small in the crotch region, while another said the trunk was a bit tight. Although the undies come in sizes XS to XXL, it is likely that not all penises will be able to fit and transform into stuffed animals. (We're looking at you, The Game.)
Fit has proved to be the biggest concern potential customers have, according to Zelvys. One customer asked him if he needed her husband's exact penis measurements, and if so, if he needed them based on her husband's penis flaccid or erect. Very, very valid question. (To note: Zelvys doesn't want your measurements and has included a size chart on the brand's website.)
In this case, size indeed does matter. With that, we leave you with this meme from the brand.