From Donald Trump to Bernie Sanders, Male Politicians Are Wearing Lots and Lots of Makeup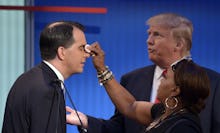 There is one thing current candidates Donald Trump, Ted Cruz and Bernie Sanders, as well as race dropouts Jeb Bush and Marco Rubio, all have in common outside of politics: They all wear makeup. Like, a lot of makeup.
There have been hints affirming their done-up faces; just take a look at Cruz's contouring or Donald Trump's bronzed skin:  
There are even rumors that Trump does his own hair and makeup, which possibly explains why he often appears to have more caked on than his fellow candidates. (This is not always the case; a makeup artist that recently worked with the presidential candidate denied an interview request.) 
Mic decided to locate the women who know this topic the best, the makeup artists who've worked directly with the candidates, in order to demystify the beauty regimens of these storied political figures.
News flash: It's a process, albeit a fast one. Candidates get more than just a quick powder down, despite the fact that makeup artists usually only have a few minutes at most to work their magic. 
"The point of mens grooming is to control shine, even the skin tone, tame hair/fly-aways and brighten around the eye area, concealing any dark areas that have popped up from long travel days and debates," Victoria Stiles, a Virginia-based makeup artist who's worked with Cruz and Sanders, said in an email. "Men's grooming takes no more than 10 minutes. You want to get them in and out as quickly as possible."
Leah Greene, a South Carolina-based freelance makeup artist, had the same time restraint when she did the makeup for Rubio, Cruz and Ben Carson before they went on FOX News' The Kelly File. 
"I do not get much time to apply their makeup, so I have to be fast," Greene said in an email. "Carson joked that he was handsome enough. I really only powdered Carson's nose and forehead. He really has great skin and an even skin tone, so he really didn't need too much."
Rubio, on the other hand, needed the most work because of his five o'clock shadow. 
HD TV is unforgiving. There are two main differences between photoshoots and television broadcasts: the time makeup artists are given with the candidate and the fact that television appearances do not allow for digital alteration, and thus, more makeup is needed.
"TV makeup requires a very matte finish for skin, but has to look natural as networks broadcast in HD," Stacey Frasca, a Boston-based makeup artist who has worked on Jeb Bush, explained in an email. 
"The lights are bright and can get very warm, which causes you to sweat and look shiny," Danielle Stewart, an Iowa-based makeup artist, said via email. "It can look very washed out, so usually they need to go a shade or two darker as far as foundation goes. The great thing about being photographed is you can touch up just about anything. [On TV], what you see is what you get."
Not every politicians enjoys the makeup process. Bernie Sanders, for instance, has strict rules when it comes to his makeup.
"His requirements [are] don't touch his hair, [use] very little makeup and make sure his suit is free of dust and lint," Stewart, who worked with the candidate before his appearance on This Week With George Stephanopoulos and for a CNN event prior to the Iowa Caucus, said. 
Greene has touched Sanders' hair — and it wasn't easy to deal with. "He joked that there wasn't much I could do to help him," she says. "Styling his hair was the hardest because it would not stay down even with hairspray. He needed a haircut."
"Most candidates prefer a little powder or touchup for any camera or press opp" Frasca said. "But, I was booked for John Kasich and we were interviewing him in his tour bus and he denied makeup." 
Applying makeup in less-than-ideal circumstances. "The hardest [part] is applying in poor lighting, so I have to be very careful to get the color right," Greene said. "I did Cruz's makeup on his bus, so I made sure I did not go too light. I did Carson's and Rubio's in the hallway right before the went on camera." 
To be prepared in any and all situations (because when it comes to politics, who knows what could happen), Stewart has a list of products — consisting of everything from floss and mints to duct tape and shout wipes — that she keeps with her at all times.
Can candidates' makeup affect voters decision? Surprisingly, yes. "Wearing makeup can have effects on perceptions of a person's trustworthiness, competence, and likability, among other characteristics," Dr. Jon Freeman, an assistant professor in the Department of Psychology at New York University, said in an email. "The utility of cosmetics for male facial appearance could include increasing perceptions of health and vitality, such as through evening out the skin."
Both Stiles and Greene brought up the well-known 1960 debate between Nixon and Kennedy. Nixon, who had recently been released from the hospital, was sweating and appeared sickly next to Kennedy's calm demeanor. "Many say Kennedy won the election that night," TIME wrote about the event. 
"By increasing perceived attractiveness, it is likely this may lead to benefits in voting intentions and electability," Dr. Freeman said. "Due to 'attractiveness halo' effects, individuals that are perceived more attractive also tend to be viewed more positively along a number of personality traits, such as competence."
There you have it. If it increases their chances at the big win, it's likely that all the candidates — even Sanders — will continue to cake on beauty products. But it seems Trump's beauty routine will remain a mystery.