Former NYPD Officer Peter Liang Won't Spend a Day in Prison for Akai Gurley's Death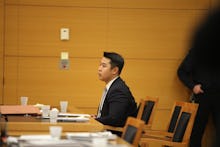 There's no dispute over whether former NYPD officer Peter Liang shot and killed Akai Gurley in a darkened Brooklyn stairwell in November of 2014. But after a jury found him guilty on charges of manslaughter in a high-profile trial, a judge reduced the charge to criminally negligent homicide on Tuesday, reported NBC News. Though Liang faced up to 15 years in prison after his initial conviction, he will serve five years of probation and 800 hours of community service.
And will not spend one day in prison for Gurley's death. 
Liang's case became national news amid harrowing stories of police violence in black communities. In New York City and across the country, Liang's supporters said that he had become an easy scapegoat for police accountability because he is Asian-American. In one petition to the White House, supporters wrote, "the circumstances surrounding Mr. Gurley's death lead to a manslaughter indictment this week, whereas police officers in the Michael Brown and Eric Garner case were never charged. Criminal charges appeared more likely in the later two cases, but these two non-Asian police officers were never charged."
Gurley's family, however, was buoyed by the initial verdict. "We have to send a message not only to the system, but to these police officers, their commanders, to the mayor: no more," Hertencia Peterson, Gurley's aunt, said in an interview at the Kings County Supreme Court in downtown Brooklyn during Liang's trial. "Enough is enough. Stop with the excuses. Hold these officers accountable because, at the end of the day, they have a job, they're collecting a paycheck, they're seeing their loved ones. Akai Gurley's not."
Still, an unlikely coalition of black and Asian-American activists emerged in the aftermath of Gurley's death that vowed to bring Liang to justice. "Just because it's an Asian cop doesn't mean that doesn't mean that he shouldn't be indicted," said Meejin Richart, an organizer with CAAAV, at the time. "In fact, all cops need to be held accountable when they brutalize and kill communities that they're paid to protect."
The news sent shockwaves across Twitter on Tuesday:
Peterson had stinging words while leaving the courtroom on Tuesday. "Akai's life does not matter," she said, according to NBC News's Chris Fuchs. 
"Black lives do not matter. But don't worry: justice will be served one way or another."