This Mythical Rainbow Highlighter Sold Out Overnight, All Thanks to Reddit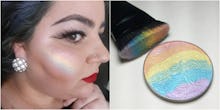 Take a deep breath: This week's viral beauty trend has nothing to do with contouring. Instead, we introduce you to the act of powdering a rainbow onto your face, all thanks to Reddit.
One week ago, a user posted on Reddit about a rainbow highlighting palette being sold by Etsy user Bitter Lace Beauty. Photos of the product quickly began floating around social media, like in the memes below. 
There has since been a slew of comments posted on the seller's Instagram page expressing overwhelming desire for the product.
"I absolutely cannot wait to get my hands on this," one person commented. "I'm not even sure how to use this, but I need it," another wrote. "I didn't think it was real, I neeeed," wrote yet another.
Don't run to grab your credit card just yet. The combination of the Reddit post and the memes caused the product to sell out. (Thank you, internet.)
"PRISM, our rainbow highlighter, is currently out of stock but will be making a comeback soon. Make sure you are following us on social media for updates," the shop owner wrote on her page. 
We must offer a fair warning to those wanting to purchase it at the restock: If you already have trouble blending your skin-colored highlighter, it's likely this palette won't make it any easier. But hey, at least it is damn pretty to look at. 
Thanks, Reddit. Thanks, memes. Thanks, internet. You're all great.
h/t Teen Vogue