'People' Crowns Jennifer Aniston Most Beautiful Woman — But Folks Call Out a Big Problem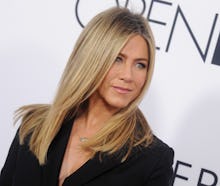 Since 1990, many actors and actresses have been dubbed the world's "Most Beautiful People" by People Magazine. 
This year was no different: On Wednesday morning, the publication crowned Jennifer Aniston the Most Beautiful Woman 2016 — for the second time.
Since the list (which originally named men and women under the overarching title "Most Beautiful," but has now morphed into "Most Beautiful Woman") debuted almost 26 years ago, only three of the the magazine's choices — Halle Berry in 2003, Beyoncé in 2012 and Lupita Nyong'o in 2014 — have been women of color. 
The "Most Beautiful" title is not to be confused with People's Sexiest Man Alive, which has been even more problematic, awarding the accolade to only one person of color (Denzel Washington) in its 30 years.
Not everyone is happy. Many folks have taken to Twitter to voice their concern with the choice. While most don't deny that Aniston is a beautiful woman, they believe that People missed out on an opportunity to highlight diversity. (Mic has reached out to People for comment.)
It's not all backlash. Some are praising the magazine for featuring a 47-year-old woman as its Most Beautiful. Over the last decade, Sandra Bullock (in 2015) was the only other woman chosen over 45; the average age of the women featured as People's Most Beautiful over the years is 34. 
But with the cover boldly teasing "Jen's secret for staying younger," the magazine (rather frustratingly) encourages women to try and seek out youthfulness rather than embrace their age. 
Do we still need this "contest"? A few have taken to Twitter to pose a separate yet also important question — why are we still crowning someone based on his or her appearance? 
Who do you think should've been on the cover? We're with Nia Vardalos on this one: