Plus-Size Blogger Shuts Down Hater: "You Can't Show Your Belly, But I Can Show Mine!"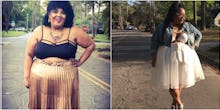 Maui Bigelow, the plus-size fashion blogger behind Phat Girl Fresh, wants you to know one thing: She wears what she wants to wear. Period. 
"How many times have you heard, 'she is too big to wear that?'" she asked in a post for the Curvy Fashionista, adding other all-too-common sentiments like "Fat girls can't do this" and "Plus-size women can't wear that."
Yes, with numerous magazine covers and assorted clothing collections, there have been positive steps forward as of late when it comes to plus-size inclusivity within the fashion industry. However, Bigelow's recent encounter with "one of her fellow curvy cuties" suggests that there is still a ways to go. 
Read more: Beyoncé's Ivy Park Is Receiving Backlash for Not Including Plus Sizes
While wearing a crop top out with friends, a stranger tried to adjust Bigelow's skirt, saying, "I am just fixing your clothes because you know we can't be showing our belly," she wrote.
Bigelow's response? "Maybe you can't show your belly, but I can show mine." 
Cue the mic drop. 
Some women (like the stranger in Bigelow's story) are still following these "guidelines" that suggest only specific body types can wear certain items. While no one should be telling anyone else how to dress, it is especially mind-boggling that a fellow plus-size woman — who likely shares common struggles with Bigelow — felt the need to go out of her way to shame another woman. 
"[Plus-size women] are afraid to step out of the box because they have absorbed society's lies and they feel that they belong in the box. So, instead of going against the grain, they play it safe," she said in an email.
Bigelow thinks the change needs to come from within the fashion industry: 
I would really like to see brands be more supportive of women who look like me. I am not talking curvy, I am talking fat. Women with more belly than most. Women who are round and petite or woman who are thick and tall. I just think that it is vital that everyone is represented.
Until this happens, Bigelow is rejecting societal notions (and this stranger's beliefs) and loving every part of her body. "At a size 24, with quite a few rolls and jiggly parts; I can honestly say, I wear what I want," she wrote.
"This is my body and I love every inch of it... We are fabulous, beautiful and capable of doing and being whatever we desire, right now at the size that we are."