Two Harvard Students Are Revolutionizing the Way You Shop for Nude Clothing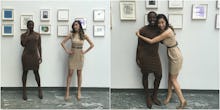 Harvard Business School MBA candidates Atima Lui and Nancy Madrid want to undress you of your so-called nude clothing and cover you up with pieces that aren't beige and — gasp — actually match your unique skin tone. 
Joining Christian Louboutin, Nubian Skin and Björn Borg in the push to redefine the color that "nude" has come to represent, Lui and Madrid decided to start Mia Pielle, a website that curates nude-colored clothing items around the web and brings them together in a one-stop shopping experience.
Read more: Christian Louboutin Adds Two Key Skin Tones to Its Inclusive "Nude" Shoe Collection
"As two women of Mexican and Sudanese heritage, we often feel like we don't meet the standard of beauty in this country. From hair products to makeup, we've grown accustomed to companies not always meeting our needs as ethnic minorities," Lui said in an email. 
Once the site is fully up and running (it's currently only available to a select group of 300 testers, but you can sign up for the waitlist here), users will be able to choose one of six shades — ivory, pearl, honey, bronze, chocolate or mahogany — that they most relate to. 
After they have selected, they will be prompted to choose what they are shopping for (clothing, lingerie, shoes etc.).
A slew of products available from brands and retailers across the country, in the specific shade they chose, will then populate and offer the option to view and purchase.
"[The fashion industry's definition of "nude"] is not nude for everyone," Liu said. "We women come in a wide range of skin tones, and we all deserve products that match our unique hue."
They believe the problem isn't the lack of products available, but instead the inaccessibility of the items that already exist. 
"What's interesting is that the fashion industry does produce brown-colored items in many shades. However, fashion brands treat these products like fashion colors that come in and out with their particular seasons and not like a functional nude concept required year-round," she said. "This makes it particularly difficult for multicultural women to find the right nude product, at the right time, and in the right color to match their unique skin tone."
It's not just darker women that have experienced issues finding products to match their skin tone, it's white women, too. 
"Caucasian women come in a variety of skin tones and are also being forced into a given brand's chosen shade of beige," she said. "In fact, we hear from many women who identify themselves as very pale who are just as excited by the Mia Pielle concept as women of color who also can't find their right shade of nude." 
The founders understand that this is just a start at finding a solution to the "nude problem" in fashion — it will come with brands changing the current definition of the term — but they remain optimistic. 
"Our dream is for every brand and every retailer that offers nude products to do so in multiple skin tones," Lui said. "The more companies that make the change the better for our customers, and for women everywhere."