Chinese-American Organizations Are "Outraged" Peter Liang Won't Get Jail Time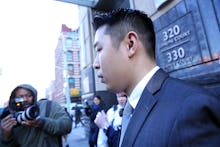 Just hours after former NYPD Officer Peter Liang had his manslaughter charge reduced and was sentenced to five years of probation and 800 hours of community service for shooting Akai Gurley in a Brooklyn stairwell, a coalition of Chinese-American community groups from across the country sent out a damning statement deploring the Brooklyn District Attorney's decision.
"We are outraged that Peter Liang has escaped accountability for killing Akai Gurley," the statement read, which was signed by groups from New York City, Philadelphia, Boston, Los Angeles and San Francisco."
The statement continued: "For more than a year, Akai Gurley's family has been courageously speaking out to demand justice for their loved one. Judge Chun's sentencing decision today is an insult to Akai Gurley, his family, and all victims of police violence. Any amount of jail/prison time is a brief snippet of time compared to the lifetime Akai Gurley's young daughters will have to live without their father. The sentencing sends the message that it is okay to kill innocent and precious lives, as long as it is done by a police officer."
The groups who signed the letter include: Asian Americans United, CAAAV Organizing Asian Communities, Chinatown Community for Equalitable Development and two Chinese Progressive Association chapters in California. 
The statement is a significant departure from the support Liang has received from others in the Asian-American community. In February, thousands rallied in New York City in support of the former officer, who they said was being unfairly punished because he was Chinese-American.
Through Liang's trial, a careful coalition of black and Asian-American groups came together to demand justice. That demand, according to the statement, has still gone unheeded. 
"We cannot excuse an officer for killing an innocent unarmed black man because Peter Liang is Chinese or Asian like us," they wrote. "We know that the strength of our power is fully realized when we stand together with those who also face injustice."