Danielle Brooks Just Called Out a Harsh Reality of Being Plus Size In Hollywood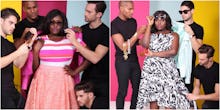 If there is one thing Danielle Brooks is proving in Christian Siriano for Lane Bryant's new campaign ads, it's that it's time to toss out the outdated fashion rule that plus-size women should "stay away from" color and patterns. 
Siriano hand-picked the 26-year-old Orange Is The New Black star to model the '50s-inspired vibrant pieces that will be sold at Lane Bryant starting April 28. 
For Brooks, this was more than just an opportunity to be the face of a brand. It was a chance for her to speak out about a common issue plus-size women face in the fashion industry — and more specifically, in Hollywood. 
"Being plus-size, it's very easy to put a woman in [a] black or navy dress," she told PeopleStyle. "But to get to show color on my chocolate skin is really fun for me, and it's not an option that always comes around." 
These pieces made the actress feel confident. And it shows. Brooks look gorgeous.
"[The clothes] make you feel sexy, like everyone has their eyes on you," she told the magazine. "It's like these are the clothes you want to wear when you walk down the street and want to make heads turn."
Read more: This Is the "Indecent" Commercial ABC and NBC Didn't Want You to See
Brooks, who has worn colorful Siriano pieces to red carpet events before, praised the designer for creating a collection for women of all sizes, as opposed to other designers that only create pieces for one type of woman.
"And for plus-size women to feel confident in what they're wearing, Christian hits it on the nail with that," she said. "I really appreciate a designer of his stature saying 'I'm going to design for every woman.' There is such a huge market. The plus-size industry is huge."
Siriano, who was also the designer behind plus-size fashion blogger Nicolette Mason's 2015 wedding dress, believes women of all sizes deserve options. 
"In my opinion, fashion should never be defined by size," Siriano said in a statement when the collection was announced last year. "Regardless if it's for red carpet or a day at the office, every woman should feel stylish and comfortable in their clothes." 
"When you sign up to be a designer, and be a creator, the goal at the end of the day is to sell clothes that women can wear," he further explained to PeopleStyle. "I've never understood not having something for every woman." 
Hey, designers, take some notes from Siriano. 
h/t PeopleStyle