This San Francisco Rapper is Refusing to Eat Until the City's Mayor or Police Chief Resign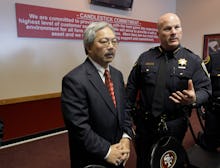 San Francisco is known as a hotbed of innovation, but a small group of activists are using a good old-fashioned hunger strike to challenge two of the city's most powerful officials.
To protest recent police shootings, local rapper Equipto and a handful of supporters including his mother have set up camp outside the San Francisco Police Department's Mission Station, located in the city's historically Latino district. 
Starting Friday, Equipto said that the group will abstain from eating solid foods until either San Francisco Mayor Ed Lee or Police Chief Greg Suhr resign. 
"San Francisco is in a state of emergency," said Equipto, , whose real name is Ilyich Sato, in a phone interview. "The families that are suffering are what inspired us to do this."
Equipto added that he hopes homegrown heroes like Carlos Santana and Danny Glover will join his protest to lend it some star power.
Lee and Suhr have presided over a politically tumultuous moment in the city's history. In the past year, police shootings have put San Francisco's roiling race and class tensions in the national spotlight.
In March, a jury sided with the police department in the case of Alex Nieto, a San Francisco native who was shot and killed by police while holding a taser that witnesses mistook for a gun. The mayor's office and police department have also faced withering criticism for the shooting of Mario Woods, a mentally ill African-American man whom police shot in late 2015. The incident was caught on video, sparking protests in the city. 
"The people of San Francisco can no longer stand by as our citizens are being brutally murdered by those that have taken an oath to protect and serve," Equipto wrote in a Facebook post announcing the hunger strike. "[San Franciscans] can no longer watch SFPD serve only the wealthy and privileged of this community as they murder unarmed black, brown, poor and disabled citizens."
The rapper pointed not just to recent police shootings as the inspiration for his group's protest, but to a case in which police officers were caught using racist and homophobic slurs in a text message exchange that became public. The messages, which were sent among several officers between 2011 and 2012, joked about cross-burnings and included a message that "All niggers must fucking hang."
Equipto said that, taken together, these incidents have resulted in a climate of fear for working-class communities of color in the city.
"These murders are swept under the rug," Equipto said. "[Lee and Suhr] want to make it seem like [San Francisco] is a paradise so techies can move in [but] we want to make Mario Woods and Alex Nieto household names." 
Equipto is also taking a stand against the lack of affordable housing in the city. "If Suhr serves another four years as police chief," he said ,"this city will be totally wiped out and taken over by techies" who appreciate the city's legendary murals and tacos, but not the Latino community that made them.
"That's what the police are showing us — they don't want ethnic, lower class people here."