Black Twitter Is Not Here for M.I.A.'s Criticism of Beyoncé and Black Lives Matter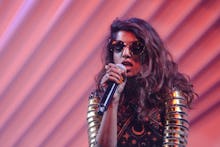 In a recent interview with Evening Standard magazine, singer M.I.A. said she was troubled by which issues activists are allowed to speak about on America's biggest platforms. As an example, she highlighted Beyoncé's embrace of #BlackLivesMatter on "Formation."
"It's not a new thing to me," M.I.A. said about Black Lives Matter's fight for justice. "It's what Lauryn Hill was saying in the 1990s, or Public Enemy in the 1980s. Is Beyoncé or Kendrick Lamar going to say Muslim Lives Matter? Or Syrian Lives Matter? Or this kid in Pakistan matters? That's a more interesting question."
The comments didn't sit well with plenty of black folks and their allies. As Alicia Garza, one of the three women came up with #BlackLivesMatter, articulated to Feminist Wire in 2014: " #BlackLivesMatter doesn't mean your life isn't important — it means that black lives, which are seen as without value within white supremacy, are important to your liberation." That sentiment is resonating on Twitter:
M.I.A. tweeted early Thursday to defend herself.
"My question was, on American platforms what do they allow you to stand up for in 2016," she tweeted. "This has been the No. 1 question for me."
But, coming from from a Grammy-nominated artist whose hits have been on the Billboard charts, that point may still not resonate well with some observers, especially activists who have found their political identity within the movement for black lives.