Here's What the Internet's Coolest Grandma Thinks About Your Favorite Pop Culture Trends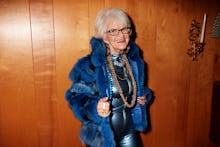 Some grandma's don't use social media all that often, while others have amassed over 1 million followers on Instagram. OK, maybe that's not too common — for people that aren't Baddie Winkle, that is. 
With rave-themed memes, loud, pink sparkly outfits and celebrity fans like Miley Cyrus and Rihanna, the 87-year-old OG badass grandma has been letting loose online since 2014. 
Read more: Baddie Winkle Had the Best Outfit of the MTV Movie Awards
Mic was granted the opportunity to celebrate her first ever national television commercial with Smirnoff Ice, or as Baddie puts it, "the best possible drink for a festival." 
Because so much attention is usually placed on what she is wearing, sometimes overshadowing her opinions, we wanted to ask Baddie her thoughts on the biggest pop culture trends at the moment. Turns out, she is just as LOL-worthy in person as she is on the interwebs:
Kanye West
"In fact I wore an outfit to come here with Kanye West pictures all over it... I like Kanye." 
Khloé Kardashian
"I had a picture made once with Kylie but it went so fast, we didn't get much more than to say hi. Khloé, I have met... Of course, she's my favorite. We're kinda alike, me and her." 
Coachella
"I haven't been to Coachella. I was invited last year and I was invited again this year, and I would've loved to have gone. But, they said, you know, they didn't recommend it to me because I would've had to have bodyguards around, stuff like that. Besides, it's hot... real hot. But, I love festivals. Maybe I can go for two hours or something." 
Chokers 
"I love chokers. I dearly love chokers. I wore chokers back in my day, like a hundred years ago, so they came back in, and a lot of my friends have begun to wear chokers now."
"Uh... well, Kim's Kim."
Donald Trump's hair
"I've never liked Donald Trump's hair. I think he needs a new hairstyle for one thing. But as far as Donald Trump himself, he's OK" 
Hillary Clinton's style
"I think Hillary Clinton is a very intelligent, very smart lady... But I did get tired of her pantsuits. She's begun to dress a little bit better now, so I like her style a little bit better." 
Snapchat Filters
"The filters are really funny. My granddaughters are all the time taking pictures of me and making them really funny. Some of them are awful, but I think it's a fun thing." 
Other tidbits we learned about Baddie include that her type is "tall, dark and handsome" and she love's people watching at festivals (despite the fact that most eyes are usually on her).
It appears that Baddie might know more about pop culture than most people do. One other thing that's for sure? No one else's style — regardless of age — can compare to her eccentric, sparkle-covered get-ups. 
Unfortunately, we'll never know where she got her must-have furby-covered jacket because, apparently, she borrowed it. (From who?)