Prince Paved the Way for These Gender-Bending Artists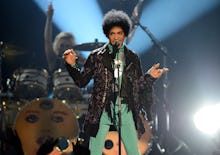 The world is mourning Prince's death after the iconic superstar died at his Paisley Park mansion in Chanhassen, Minnesota, on Thursday. The news was first reported by TMZ, which also broke the news on April 15 that he had been rushed to the hospital after his plane was forced to make an emergency landing.
It's hard to measure Prince's impact, but these numbers try: Thirty-nine solo studio albums, more than 100 million albums sold, seven Grammy Awards, a Golden Globe and even an Academy Award. 
Read more: Prince, Pop Icon, Dead at 57
But one of his most enduring legacies is the way he played with our perceptions of gender. He identified as straight, but regularly dawned pressed hair, flowing blouses and the occasional speedo. He spoke unabashedly about sex, which was no small feat for a black man in the hypermasculine 1980s. He showed that an artist could take risks, and that gender was not static. It's a message that resonates especially strongly now, as more artists do away with gender binaries and embrace sexual freedom.
Here are a few gender-bending artists who are following in Prince's footsteps:
Janelle Monáe
Jaden Smith
Willow Smith
Perfume Genius
Miley Cyrus
Azealia Banks
Andre 3000
Lady Gaga
Lenny Kravitz