MAC's New Collection Called Out For "[Grossly] Playing Into the 'Tribal' Stereotype"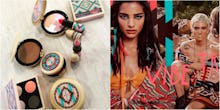 Let's face it, time and time again brands are being called out for cultural appropriation. Within the last two weeks, this was the case for retailers like Free People and ASOS. Yet, for some reason, these big companies just can't seem to take a hint. The latest perpetrator: MAC Cosmetics.
A few weeks ago, the beauty brand's newest collection, #MACVIBETRIBE, was leaked on social media. 
The name of the collection references Native American tribes, the packaging is covered in traditional Navajo prints and the collection's ads feature women with tribal tattoos and feathers in their hair. Sense anything ... problematic?
Read more: ASOS Thinks Cara Delevingne Started Micro Braids
According to the brand, the collection is simply festival-themed (which doesn't help the situation, as many unfortunately wear Native-inspired outfits to events like Coachella). 
"MAC Vibe Tribe is the summer color collection for MAC Cosmetics. The collection, including the visuals, product lineup and naming, is inspired by art, outdoor music festivals and the colors of the desert," the brand said in an email. 
People on Reddit were quick to call out MAC for trying to benefit from Native-American culture. 
"The packaging is really pretty, but it doesn't come close to making up for how gross it is that they're playing into the 'tribal' stereotype," one said. 
"I'm really grossed out by the fact that they'll be benefiting from Native designs and 'vibes,' and I don't imagine any of the proceeds will be going to any of the First Nations, and I'd be surprised if there were any Native models in their ad campaigns," another wrote. 
Reddit users point out that the issue isn't necessarily just the brand itself creating the product, it's the amount of people that will run out and buy it without thinking twice.  
"You have to remember the consumer. People are buying things like this because they think it's cute," one explained. "If consumers wouldn't buy it, MAC wouldn't make it. I know you're not offering that as an excuse, but it still makes me sad — both that MAC will produce it, and that consumers will purchase it," said another. 
Twitter users were just as confused. 
Earlier this week, it seemed that this conversation might be shifting. Teen Vogue published a piece featuring seven girls rocking "trends" that are often copied to show what it looked like when they weren't be appropriated. 
Haven't there been enough instances of cultural appropriation to make brands consider changing their ways? The second they start fastening those feathers in a white model's hair or designing Navajo-printed items, they could at least be like, "Wait, this might be a little off." 
Hopefully brands will take notice of this backward trend and start to appreciate rather than appropriate.
h/t Refinery29