This Justin Bieber Activity Book Will Be the Best (or Worst) $15 You've Ever Spent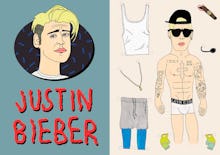 Ever wanted to undress Justin Bieber? Well, that's (sadly) not possible. But thanks to this new activity book from Sugoi Books, you can at least pretend to change up his tattoos, fix his hair and dress him up — which is the next best option, right? 
The Justin Bieber activity book, which is appropriately titled Seeing is Beliebing, features 32 glorious pages of mazes, puzzles, coloring and connect-the-dot pages and paper dolls (#TBT).
Don't worry: His Calvin Klein undies are very much included. 
The company, which also sells Kanye West, Drake and Kim Kardashian West activity books, believes that the 22-year-old semi-controversial singer was the perfect person to add to its growing catalog.
"We always try and work with characters that lend themselves to the illustrations," Lucy Knowles, the brand's manager, said in an email. "In a similar way to Kim, Bieber is such a wild character who definitely splits opinion. He's probably been in more incidents than Kim and for an activity book, it really got the mind racing." 
This book is not just for teeny-bopper beliebers. Adult coloring books are well-known to be a stress-relieving activity. If people are going to join in the trend, why not doodle and help the Biebs find his way through a maze to his BFF Usher? 
Read more: Finally: the Kim Kardashian West Connect-the-Dots Book We Deserve
At $15, the book won't have you singing "Is it too late now to say sorry?" to your bank account. Zing! Instead, Knowles believes it might convert people into overnight Bieber worshippers. 
"Literally chatting about this project you'd be surprised who liked and hated Justin Bieber," she said. "Even my gran[dma] is a newfound, exclaimed Belieber."