Harriet Tubman's Unearthed Story From Her Biography Gives New Significance to the $20 Bill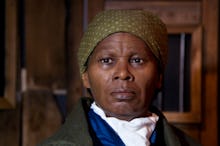 After nearly a year of rumors over which female historical figure would appear on the new United States $10 bills — or if the success of Lin-Manuel Miranda's musical would allow for Alexander Hamilton to hold his ground — on Wednesday, the U.S. Department of the Treasury confirmed abolitionist Harriet Tubman would appear on not the $10 but the $20 bill.
And Tubman may have predicted it herself. Kind of. 
Following the Treasury's announcement, Yoni Appelbaum, Washington Bureau Chief at the Atlantic, unearthed a telling moment from Tubman's biography, Harriet: The Moses of Her People. In it, Tubman stages a strike to procure the $20 she needs to free her parents, who were still enslaved in Maryland:
In the end, Tubman's persistence paid off: 
Even a century after her death, Tubman is still facing adversity. With the excitement driven by Wednesday's announcement, there also came racist outrage and one man who requested a "happier"-looking portrait of the former slave who freed hundreds via the Underground Railroad. 
But just as in the story from her biography, Tubman will finally get her fair due — and in 2020, she'll be right on the money.
Read more: Harriet Tubman Will Be Sharing the $20 Bill With Andrew Jackson — And That's Problematic