The Most Powerful Part of Beyoncé's Visual Album Had Nothing to Do With Beyoncé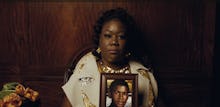 Beyoncé dropped her visual masterpiece Lemonade on Saturday night, packed with powerful imagery and heartrending lyrics. But of the stunning visuals that will surely be talked about for years, some of the most powerful ones had nothing to do with her at all. Instead, they were of the loved ones of black men killed by police or vigilantes, holding pictures of their slain loved ones. 
Here are some of them:
Lesley McSpadden, mother of Michael Brown
It was an especially powerful moment given the importance these women have played in the movement for black lives. Each one of their sons has become a rallying cry for issues like police accountability and reform. They've even been courted heavily by Hillary Clinton and Bernie Sanders, as testament to their symbolism and political import. 
But put in the context of the crowning achievement of one of America's most important black artists, these women show that they're more than just symbols. They're survivors.