Beyoncé's 'Lemonade' Is What Happens When Black Women Control Their Art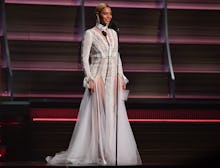 Millions of people saw one of the world's most powerful black women fight her demons on Saturday, and win. Not far into Lemonade, Beyoncé is in a Victorian-era room, submerged in water. It is one of the more gripping scenes in the hourlong visual album that previewed her most recent album release. In it, she sings of betrayal, but she is not bowed. She doesn't drown; she floats. She surrenders, but she does not lose. She is nobody's victim.
Roughly 24 hours before Beyoncé unleashed her epic visual masterpiece Lemonade on HBO, a tragedy called Nina, a biopic based on the last years of Nina Simone's life, was released on iTunes and in select theaters across the country. It is, by every measure, terrible.
Due to the timing, and the movie's attempt to tell the story of a woman who sang the beauty of blackness, it's hard not to compare the two. And if there's one theme that truly unites these two moments in our cultural history, it's control.
Beyoncé's Lemonade is what happens when a black woman has it. Nina is what happens when a black woman doesn't.
After four years of making headlines for casting Zoe Saldana, known for her lighter skin and finer features, in the lead role, Nina wasn't as bad as its critics suspected; it was much worse. Longtime screenwriter and first-time director Cynthia Mort basically told viewers as much in a recent interview with BuzzFeed, before the film's debut, when she described the messy behind-the-scenes fight with producers in postproduction that led her to ultimately sue the company, U.K.-based Ealing Studios Entertainment, for abandoning her original vision and allegedly cutting her out of the creative process. Those producers, Mort said, wanted an "easier" Nina Simone. "I didn't," she told BuzzFeed. "Why would I? That's not who she was."
But there was nothing easy about watching Nina on screen. Even if you wanted to look beyond the headlines and controversy, it was impossible to ignore Saldana's awful prosthetic nose, her discolored makeup, the story's jumbled chronology and the script's hackneyed lines. At one point, Mike Epps' Richard Pryor phones Saldana's Simone and actually says, "First I lit my shit up with this crack pipe, now it's this M.S. shit that's fucking me up." Not even a "hello."
That the film misses the mark completely isn't a surprise at all given how few black people were involved in its production. As Kara Brown pointed out at Jezebel in March, nearly every single person involved with the production is white. Simone's estate wanted nothing to do with the film and has criticized it, publicly, for years. "Hopefully people begin to understand this is painful," the estate tweeted in March. "Gut-wrenching, heartbreaking, nauseating, soul-crushing." Their interpretation of Simone was that of a helpless, at times redemptive, figure for whom we should all feel pity.
Black women's artistic agency: Ironically, the film does unintentionally get something right: Simone struggled to control her art throughout her career. In the first recording contract she signed in 1957 with Bethlehem Records, she unintentionally signed away her rights for her first album, Little Girl Blue, that included the song "I Loves You, Porgy," which would become her first breakout hit. "When I signed that slip of paper at the end of the Bethlehem session, I gave up all my rights as a performer and artist, so they could sell recordings of mine that I had never thought of releasing," she wrote in her 2003 memoir, I Put a Spell on You. "I would get wise to contracts over the years, but what hurt most was that Bethlehem would not even have had a hit record if I hadn't kept calling them, trying to get them to do the job they said they were good at."
"It was thanks to me that they were in a position to make money out of my name," she added. Simone estimated she'd lost out on royalties worth at least $1 million.
"It was thanks to me that they were in a position to make money out of my name," — Nina Simone
Later, it was her abusive ex-husband and former manager Andrew Stroud who controlled many of her recordings. Even after her death in 2003, Shroud, who once held a gun to Simone's head, sued her estate in an effort to take control of some of her pivotal recordings from the 1960s.
That these filmmakers had the audacity to butcher the story of a black artist like Simone isn't surprising. It was, sadly, exactly we've come to expect.
Decades after Simone's battles, Beyoncé has worked tirelessly to control her art. She dropped her father, Mathew Knowles, as her manager in 2011. She releases her music exclusively on Tidal, a streaming service that happens to be owned by her husband, Jay Z. She rarely gives interviews. Even when she was on the cover of Vogue's vaunted September issue in 2015, African-American critic Margo Jefferson was reduced to compiling quotes from other celebrities, like Stella McCartney and Riccardo Tisci, to talk about her cultural impact. 
Meanwhile, Beyoncé has taken to communicating with her fans directly on Instagram and, occasionally, with the earth-shattering release of a surprise album. 
Lemonade was everything that fans wanted, and more. It was epic, it was beautiful, it was salacious, it was sexy, it was honest and it was not sorry. It was unapologetically black in the way that Simone's music was when she wailed about Mississippi or spoke to the young and gifted. It echoed the pain of heartache and the sweetness of revenge. And it did all of this while shattering perceptions that black people don't make country songs or believe in their Second Amendment right to bear arms. It's not clear yet how many people tuned into HBO for the premiere, but her sit-down interview with the network in 2013 broke ratings records; certainly Lemonade will do the same. 
Perhaps Beyoncé's greatest achievement is that she's wrestled enough control over her art to to allow other black artists to tell their stories. Central to the success of Lemonade were the contributions of two immensely talented but lesser known black artists: poet Warsan Shire and filmmaker Kahlil Joseph, whose verses and scenes of everyday New Orleans was the glue that held much of Lemonade's narrative together. 
Black art has always been profitable, but it's rare for a black artist — and a black woman, at that — to reap those profits. But Beyoncé is proof that it's possible. And she's a testament to the fact that the true power of those profits isn't necessarily money; it's the ability to control the art that you put into the world, the way that you interact with fans and the way that those fans consume what you give them. 
Thankfully for all of us, Beyoncé has the power to portray blackness in its complex beauty on a scale that's never quite been seen before.