This Makeup Artist Hilariously Transforms Her Chin Into Crying Kim Kardashian West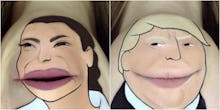 Applying makeup to your chin? It's likely for one of two reasons: Either you've developed a pimple, or you're simply blending in some foundation. 
But for makeup artist Laura Jenkinson, beauty products have become a tool she's using to turn her chin — yes, chin — into popular (and unpopular) celebs.
She's fashioned everyone from Kim Kardashian West to Donald Trump, even Beyoncé's maybe onetime-cheating husband, onto the bottom half of her face.
This isn't her first time going viral. 
She previously achieved internet fame (once in August 2014 and again in June) for her cartoon character-inspired face art. 
She isn't just drawing characters and celebs. Jenkinson also posts some really sick lip art. 
Jenkinson is "driven by a passion for making people feel good and a natural love of art," her website explains. 
Think about this the next time you can't figure out how to apply lip liner correctly. 
Read more: This Satirical Makeup Tutorial Wants You To Get "Depression Chic"