Beyoncé's "Sorry": Lyrics and Meaning Behind 'Lemonade' Breakup Anthem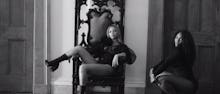 Unless you were in a coma this past weekend, you probably already know Beyoncé's Lemonade, the highly anticipated followup to her eponymous 2013 surprise album, has arrived. HBO premiered the hour-long corresponding visuals and one of the highlights included a Serena Williams cameo in the video for "Sorry," the track that's driven a large part of the conversation following the release.
Read more: Beyoncé's 'Lemonade' Is What Happens When Black Women Control Their Art
Despite the song's seemingly apologetic sentiment, the lyrics are anything but, with the track opening with "Sorry, I ain't sorry," four words that become the song's backbone.
The first verse emphasizes the song's write-off message:
Headed to the club, I ain't thinking 'bout you
In the bridge, Beyoncé calls for jilted lovers everywhere to hold their "Middle fingers up, put them hands high/ Wave it in his face, tell him 'boy, bye'"
The final verse offers pointed insight into the dynamic between Beyoncé and, we can only guess, husband Jay Z.
Looking at my watch, he shoulda been home
The appearance of "Sorry" on the track list, following "Don't Hurt Yourself," is salient due to the tonal juxtaposition; while the aggressive, "fuck"-laden "Don't Hurt Yourself" has sinister undertones (thanks to Jack White's punk-bluesy sound), "Sorry" is comparatively upbeat and singsongy.
Lemonade is now streaming on Tidal, but is expected to soon be available on iTunes.