Kylie Jenner Taking a Mirror Selfie Is All of Us Taking a Mirror Selfie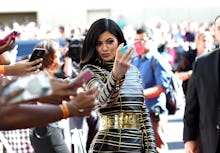 Think about that hypnotic trance you fall into when taking selfies — the one where landing the perfect angle trumps whoever or whatever is trying to get your attention. 
Turns out, queen of the selfie, Kylie Jenner, is just like us. 
Read more: Kylie Jenner Loyalist Gets Kylie Lip Kit Swatches Tattooed on His Forearm
Thanks to Rob Kardashian, who posted a video of Jenner on his Snapchat this weekend, the internet has been blessed with the opportunity to see the steps the youngest Jenner takes to achieve the perfect "like"-worthy photo. (Note: it takes a lot of sticking her butt out and pouting her lips.)
Take a look at the 18-year-old ignoring her big brother for the sake of the selfie: 
Now, picture this process with her more recent mirror selfies, all of which were taken during the last week.
If there is one thing her behind-the-selfie-scenes mirror attraction helps prove, along with this T-shirt and her mural bearing her face, it's that Kylie really likes Kylie. 
(Just don't act like you're not constantly taking photos of yourself, too.)