For All of Prince's Musical Genius, His Unsung Legacy Will Be His Activism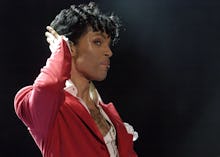 It turns out Prince wasn't just a prolific musician; he was also a devoted activist.
New stories are emerging about his continued support of black activists. Shortly after the 57-year-old's unexpected death, Alicia Garza, one of the women who began the #BlackLivesMatter hashtag that later spawned a nationwide movement, wrote a moving tribute that touched on his legacy as an activist. 
"Early on in the evolution of Black Lives Matter and this new upsurge of black freedom dreams, he quietly and yet deliberately made sure that we had what we needed to be successful," Garza wrote. "I remember asking what we could do to acknowledge him, what could we do to show our gratitude and the response was to keep going. To keep building. To keep moving towards freedom."
Former White House Advisor and current political commentator Van Jones gave a moving tribute to Prince over the weekend. "Prince was immensely charitable — giving away lots of money anonymously," Jones wrote for CNN. "He helped causes as diverse as public radio, Green For All, the Harlem Children's Zone and Black Lives Matter."
"More importantly, he made lots of calls behind the scenes to get people to act on causes that needed attention ... He was kind of like the 911 of the celebrity class."
In a tearful interview on CNN hours after his death was announced, Jones revealed that Prince was instrumental in building #YesWeCode, a program that helps low-income children learn computer programming.
"There are people who have solar panels on their houses right now in Oakland, California, that they don't know Prince paid for," Jones said about the artist's support for Green For All, a climate justice nonprofit for which Jones was formerly executive director. 
And there was more. The Prince Museum tweeted out a picture of a check for $12,000 that Prince wrote to the African-American Louisville Free Public Library back in 2001.
Prince's music will live on for generations. But so, too, will the impact of his activism.