Demi Lovato's Latest Bikini Selfie Is Your Daily Dose of Body Positivity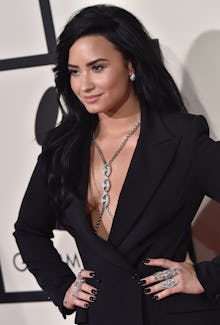 Get the five stories that will challenge you to rethink the world by signing up for MicCheck Daily.
It's easy to throw on a bathing suit and try to pick apart every last aspect of your body — even when you're as "Confident" as Demi Lovato. 
On Saturday, the 23-year-old posted a bikini selfie pinching skin on her tummy in order to point out the love she has for her body — even with imperfections. 
"My body isn't perfect," she wrote on the Snapchat photo. "I'm not my fittest but this is me! And I *heart* it *thumbs up.*" 
She also posted a photo of her lower half captioning it, "curves." 
From unaltered, nude photoshoots to openly speaking about her battle with eating disorders, Lovato has from time and time again led a body positive crusade. 
"Regardless of what society tells you these days... You don't have to have a thigh gap to be beautiful. It is possible to love your body the way it is," she captioned a photo of hersefl in a bikini on Instagram in 2015. 
Read more: New Selfridges Campaign Brings True Body Positivity to Lingerie
Thanks to Demi, it might be time to say goodbye to our bathing suit shopping fears. 
h/t Teen Vogue